Goulds Submersible 4" Well Pumps - GS Stainless Steel Series
Goulds Stainless Steel 4'' submersible pumps are specifically designed for residential and small municipal water supplies as well as light irrigation applications.
Features & Benefits
Powered by CentriPro Motors The motors feature built-in lightning/surge protection. All have a 700# thrust bearing as compared to our major competitor's 300# and 650# ratings. The 1/2 - 3 HP, 3-wire and all 2-wire models have on- winding thermal overloads.
Powered for Continuous Operation: All ratings are within the working limits of the motor as recommended by the motor manufacturer. Pump can be operated continuously without damage to the motor.
Field Serviceable: Units have left hand threads and are field serviceable with common tools and readily available repair parts.
Sand Handling Design: Our face clearance, floating impeller stack has proven itself for over 40 years as a superior sand handling, durable pump design.
FDA Compliant Non-Metallic Parts: Impellers, diffusers and bearing spiders are constructed of glass filled engineered composites. They are corrosion resistant and non-toxic.
Discharge Head/Check Valve: Cast 303 stainless steel for strength and durability. Two cast-in safety line loops for installer convenience. The built-in check valve is constructed of stainless steel and FDA compliant BUNA rubber for abrasion resistance and quiet operation.
Motor Adapter: Cast 303 stainless steel for rigid, accurate alignment of pump and motor. Easy access to motor mounting nuts using standard open end wrench.
Stainless Steel Casing: Polished stainless steel is strong and corrosion resistant.
Hex Shaft Design: Six sided shafts for positive impeller drive.
Engineered Polymer Bearings: The proprietary, engineered polymer bearing material is strong and resistant to abrasion and wear. The enclosed upper bearing is mounted in a durable Noryl® bearing spider for excellent abrasion resistance.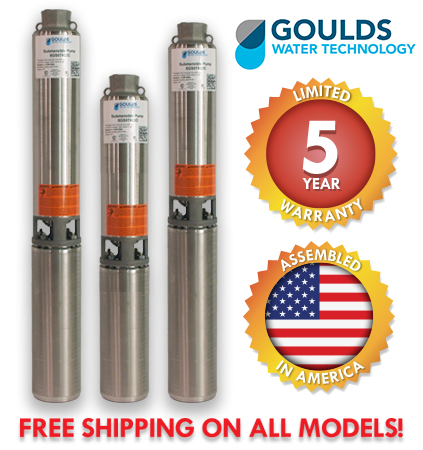 5 GPM, Stainless Steel

Model
HP
Volts
Phase
Wiring Configuration
Price
5GS05421C
0.5
115
1
2 Wire

*Shipping Included!

5GS05411CL
0.5
115
1
3 Wire

*Shipping Included!

5GS05411C
0.5
115
1
3 Wire with Control Box

*Shipping Included!

5GS05422C
0.5
230
1
2 Wire

*Shipping Included!

5GS05412CL
0.5
230
1
3 Wire

*Shipping Included!

5GS05412C
0.5
230
1
3 Wire with Control Box

*Shipping Included!

5GS07422C
0.75
230
1
2 Wire

*Shipping Included!

5GS07412CL
0.75
230
1
3 Wire

*Shipping Included!

5GS07412C
0.75
230
1
3 Wire with Control Box

*Shipping Included!

5GS10422C
1
230
1
2 Wire

*Shipping Included!

5GS10412CL
1
230
1
3 Wire

*Shipping Included!

5GS10412C
1
230
1
3 Wire with Control Box

*Shipping Included!

5GS15422C
1.5
230
1
2 Wire

*Shipping Included!

5GS15412CL
1.5
230
1
3 Wire

*Shipping Included!

5GS15412C
1.5
230
1
3 Wire with Control Box

*Shipping Included!

5GS20412CL
2
230
1
3 Wire

*Shipping Included!

Out of stock