Booster Pumps from AY McDonald, Grundfos & Davey
Booster pumps are used in applications where the normal system pressure is low and needs to be increased. These pumps are specifically designed for boosting water pressure in municipal and well water systems, rain water collection systems, and garden and irrigation applications.

Please Note: The maximum boost pressure for a pump is in addition to your existing system pressure. For example; if your existing pressure is 30 PSI, and your new booster pump has a maximum boosting pressure of 40 PSI, the total system pressure will now be 70 PSI.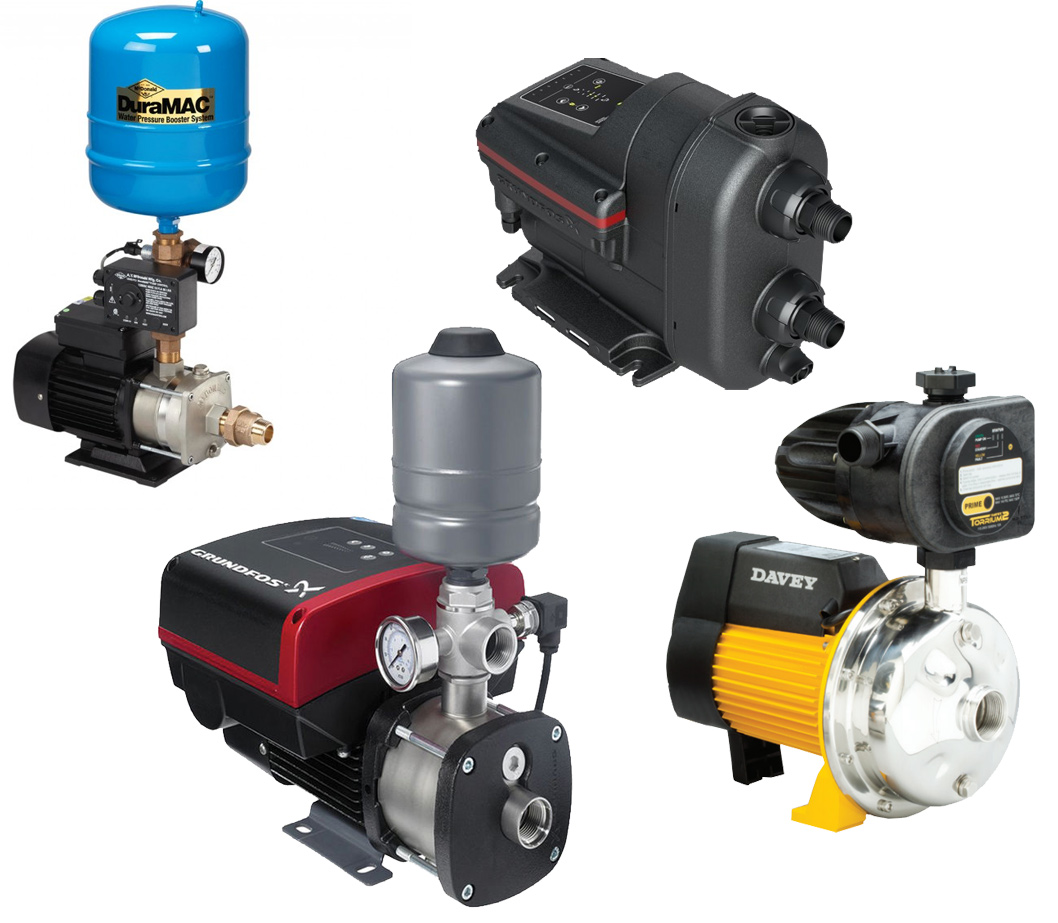 A.Y. McDonald Booster Pumps

Model
HP
Voltage
Amps
Max Flowrate
Max Boost
Warranty
Performance Chart
Price
A.Y. McDonald DuraMAC, 17035R020PC1, 1/2HP, 120V, 20 GPM Max, Booster Pump
0.5
115 volts
5.5 amps
20 GPM
35 PSI
3 Year
A.Y. McDonald DuraMAC, 17052R020PC1, 3/4HP, 120V, 20 GPM Max, Booster Pump
0.75
115 volts
7 amps
20 GPM
52 PSI
3 Year
A.Y. McDonald DuraMAC, 17070R020PC2, 1HP, 230V, 20 GPM Max, Booster Pump
1
230 volts
4 amps
20 GPM
70 PSI
3 Year
A.Y. McDonald DuraMAC, 17040C035PC2, 1HP, 230V, 35 GPM Max, Booster Pump
1
230 volts
5 amps
35 GPM
40 PSI
3 Year
A.Y. McDonald DuraMAC, 17062C035PC2, 1HP, 230V, 35 GPM Max, Booster Pump
1
230 volts
6.3 amps
35 GPM
62 PSI
3 Year
A.Y. McDonald DuraMAC, 17078C035PC2, 1.5HP, 230V, 35 GPM Max, Booster Pump
1.5
230 volts
6.8 amps
35 GPM
78 PSI
3 Year
A.Y. McDonald DuraMAC E-Series, 18035R020PC1, 1/2HP, 120V, 20 GPM Max, Booster Pump
.5
115 volts
5.5 amps
20 GPM
35 PSI
1 Year
A.Y. McDonald DuraMAC E-Series, 18052R020PC1, 3/4HP, 120V, 20 GPM Max, Booster Pump
.75
115 volts
7.0 amps
20 GPM
52 PSI
1 Year
Davey Booster Pumps

Model
HP
Voltage
Amps
Max Flowrate
Max Boost
Warranty
Performance Chart
Price
Davey BT14-30, 1HP, 115V, 27GPM Max, 38PSI Max, Pressure Boosting Pumps with Torrium Control
1.0
115 volts
7.8 amps
27 GPM
38 PSI
3 Years
Davey BT14-45, 1HP, 115V, 22.5GPM Max, 58PSI Max, Pressure Boosting Pumps with Torrium Control
1
115 volts
7.3 amps
22.5 GPM
58 PSI
3 Years
Davey BT20-30, 1HP, 115V, 27GPM Max, 50PSI Max, Pressure Boosting Pumps with Torrium Control
1
115 volts
8.2 amps
27 GPM
50 PSI
3 Years
Davey BT30-30, 1.5HP, 230V, 30GPM Max, 30 PSI Max, Pressure Boosting Pumps with Torrium Control
1.5
230 volts
7.0 amps
30 GPM
30 PSI
3 Years
Davey BT20-40, 1.25HP, 230V, 23GPM Max, 78PSI Max, Pressure Boosting Pumps with Torrium Control
1.25
230 volts
4.7 amps
23 GPM
78 PSI
3 Years
Davey SMCHM60-10 Speedman Compact Constant Pressure System, 1.6 HP
1.6
230 volts
8.0 amps
34 GPM
PSI
2 Years
Davey SMCHM90-11 Speedman Compact Constant Pressure System, 1.8 HP
1.8
230 volts
9.1 amps
34 GPM
PSI
2 Years
Grundfos Booster Pumps

Model
Description
Price
Grundfos CMBE 1-44, 1 1/2HP, 115V, 15GPM, 50PSI, Booster Pump

Grundfos CMBE 1-44, 1 1/2HP, 115V, 15GPM, 50PSI, Booster Pump

Grundfos CMBE 1-44, 1HP, 230V, 15GPM, 50PSI, Booster Pump

Grundfos CMBE 1-44, 1HP, 230V, 15GPM, 50PSI, Booster Pump

Grundfos CMBE, 1HP, 115V, 24GPM, 60PSI, Booster Pump

Grundfos CMBE, 1HP, 115V, 24GPM, 60PSI, Booster Pump