Water Conditioning Chemicals
Aqua Science carries a complete line of water treatment products to treat your well water, maintain your water filtration equipment or clean your softener resin. Treating and maintaining your equipment and water ensures that you will have the cleanest water possible.
Call us today at 1-800-767-8731 to speak to a certified water treatment specialist!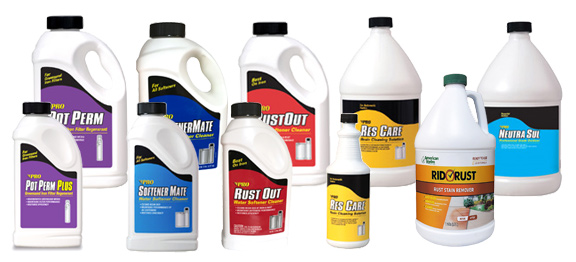 Model
Description
Price
KP02N

New and Improved Formula!

Maintains performance of greensand iron filters.

Pro Pot Perm Plus is a strong oxidizing agent that converts dissolved iron and/or manganese to insoluble oxides which can e...

read more

RR1

Rid O' Rust is the superior, cost-effective rust preventer for use in American Hydro feeder systems. It neutralizes iron in well water to prevent ugly rust stains on your property, extends the life of your sprinkler component...

read more

RR2

Rid O' Rust Extreme Water Concentrate is the superior, cost-effective rust preventer for use with irrigation systems with low or fluctuating pH water. It neutralizes iron in well water to prevent ugly rust stains on your prop...

read more

KP65N

New and Improved Formula!

Maintains performance of greensand iron filters.

Pro Pot Perm Plus is a strong oxidizing agent that converts dissolved iron and/or manganese to insoluble oxides which can e...

read more

poly-guard-gal

SCALE & RUST PREVENTER PREVENT HARD WATER STAINS Pro Poly Guard Scale & Rust Preventer (Liquid) is specifically formulated to prevent hard water stains, including scale and iron staining in comm...

read more

RU15N

ALKALINE WATER NEUTRALIZER & CLEANER Pro Products Ban-T is a Water Softener Tannin and Iron Removal Cleaner that is Specially Formulated to Effectively Lower pH and Remove Tannin and Iron from Fouled Water So...

read more

SS100WSS

LIQUID SANITIZER CONCENTRATE THE INDUSTRY'S ONLY EPA REGISTERED & NSF APPROVED SANITIZER DELIVERS RELIABLE, EFFECTIVE RESULTS EVERY TIME. Sani-System Liquid Sanitizer Concentrate is the only EPA registered & NSF approved ...

read more

KP02N x6

New and Improved Formula!

Maintains performance of greensand iron filters.

Pro Pot Perm Plus is a strong oxidizing agent that converts dissolved iron and/or manganese to insoluble oxides which can e...

read more

pro-rust-out-1.5lb

RUST OUT

Rust Out chemically removes iron and rust build-up that coats the resin beds and fouls the softener. This iron build-up is not totally removed during normal regeneration of a water softener. Usi...

read more

pro-rust-out-5lb

RUST OUT

Rust Out chemically removes iron and rust build-up that coats the resin beds and fouls the softener. This iron build-up is not totally removed during normal regeneration of a water softener. ...

read more

pro-res-care-1gal

RESCARE

ResCare will chemically clean a fouled resin bed of a water softener and restore the exchange capacity of the resin. Most types of water softening resins can become fouled with iron and other con...

read more

Pro-Res-Care-1q

RESCARE

ResCare will chemically clean a fouled resin bed of a water softener and restore the exchange capacity of the resin. Most types of water softening resins can become fouled with iron and other con...

read more

pro-softener-1.5lb

SOFTENER MATE

Softener Mate is a unique blend of environmentally friendly chemicals formulated to remove limited iron, manganese, metal particles and organic compounds that cause water softeners to lose...

read more

BBC-Pellets-19.8

Nine 2.2lb containers

B&B's highly concentrated dry chlorine pellets come in different containers. Chlorine pellets are 73% available chlorine. The pellets are EPA registered for the treatm...

read more

*Shipping Included!

pro-softener-5lb

SOFTENER MATE

Softener Mate is a unique blend of environmentally friendly chemicals formulated to remove limited iron, manganese, metal particles and organic compounds that cause water softeners to lose...

read more

ridorust-remover-1g

Removes well water rust stains from most exterior surfaces including aluminum, vinyl, wood and metal siding, concrete, masonry, stucco, brick, paint, fiberglass, stone, plastic, asphalt, driveways, sidewalks, poolside, decs, ...

read more

Neutra-sul-gal

Protects against irregular coloring and smells in treated water.

Pro Neutra Sul is formulated to remove pollutants from any water supply through oxidation. Neutra Sul is a blend of Hydrogen Pe...

read more