Closeouts, Open Box, Scratch & Dent
Here at Aqua Science, we want to pass on the savings to you whenever we can. We have a selection of Closeouts, Open Box and Scratch & Dent items ready for shipping or local pick up. The list is always changing so be sure to check back or follow us on Facebook for updates.
As always, our Customer Service Team is here to answer any questions. Please call 1-800-767-8731 if you require assistance.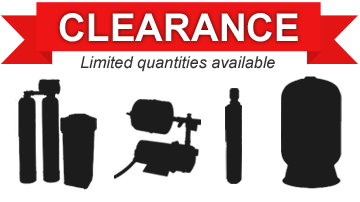 Model
Description
Price
100744

25 GPD TFC RO Membrane Brand new, never opened....

read more

18-CTA-10-R

Arrow Industries 10 GPD Membrane 18-CTA-10-R Bran new, never opened....

read more

20-BigWhite-1.0

Big Blue filter housings offer the versatility to meet all of your large-capacity filtration needs, including high-flow and heavy-sediment applications. The extra large housing allows for greater cartridge capacity, reduci...

read more

2-07TKO-14X1-1UNL

This No Lead Brass Union tee is for pressure tank installations where the tank has a 1" Female connection but with a larger diameter, 20-24". For example AO Smith AOS205.

Tank connection: 1" MPT

The s...

read more

35SSH15

Aqua Science made in North America by Pumpco 35 GPM 1.5 HP 4" Wet Pump 2" Discharge NEW OPENED BOX UNINSTALLED, NO DISCHARGE VALVE...

read more

45GS30

Like New Goulds GS 4" High Capacity Submersible Well Pump End. Will honor 5 Year Limited Warranty Designed with a stainless steel construction for strength and corrosion resistance, this pump has two cast-in safety...

read more

47-55710G2

Sanitary quick change (SQC) design eliminates the need to handle the media Features 1/4 turn cartridge change-out Manufactured from FDA CFR-21 and/or NSF compliant materials Brand new, never opened....

read more

65010086

The Aqua Flo 65010086 Sediment SED-10 Blue Filter filters away sediment that causes water to be cloudy and unappealing to drink. The SED-10 removes sediment as tiny as 5 microns or the size of one human blood cell. Aqua Fl...

read more

65010089

The Aqua Flo Carbon GAC-10 Yellow Filter features granular activated carbon media to reduce and/or remove bad taste and odor from your tap water. The Aqua Flo Carbon GAC-10 Yellow Filter is also ideal for chlorine reduction o...

read more

65010093

The Aqua Flo Ultra UF-10 Black Filter reduces lead, VOC (pesticides, herbicides, chemicals), THM, chlorine, taste, odor and sediment as small as 0.2 microns. Aqua Flo Ultra UF-10 Black Filter Specifications: Part Number: 6...

read more

65GS30

Like New Goulds GS 4" High Capacity Submersible Well Pump End. Will honor 5 Year Limited Warranty Designed with a stainless steel construction for strength and corrosion resistance, this pump has two cast-in safety...

read more

92129

Reverse Osmosis Air Gap Faucet 92129...

read more

BT14-30

Torrium® controlled pump for average to large homes with two stories or long runs of plumbing. Also good for whole house applications from a gravity feed tank. Not recommended for incoming pressure above 20-25 psi. A p...

read more

IL-10W-C

The IL-10W-C Inline 1/4" NPT coconut GAC (granular activated carbon) filter cartridge. 2" x 10" with 1/4" NPT inlet and outlet for easy installation. Makes a great ice maker filter for refrigerators without the built in fil...

read more

P42B000542-01-C

Built with the latest design, manufacturing and testing technology. They feature laser-welded 304L stainless steel construction, higher thrust capacities and higher efficiencies. The XE Series submersible motors incorporate "...

read more

P42B0007A-01-C

Brand new, never used, 2017 model 4" Submersible Motor XE-Series 3/4 HP, 2 Wire, 230V, 1 Phase, 60 Hz Pentek XE Series feature laser-welded 304L stainless steel construction, higher thrust capacities and higher efficiencie...

read more

P42B0007A2-01-C

Brand new, never used, 2016 model 4" Submersible Motor XE-Series 3/4HP, 2 Wire, 230V, 1 Phase, 60 Hz Pentek XE Series feature laser-welded 304L stainless steel construction, higher thrust capacities and higher efficiencies...

read more

P42B0007A2-01-C-17

Brand new, never used, 2017 model 4" Submersible Motor XE-Series 3/4HP, 2 Wire, 230V, 1 Phase, 60 Hz Pentek XE Series feature laser-welded 304L stainless steel construction, higher thrust capacities and higher efficiencies...

read more

QS-5

Secures tank to wall and takes weight load off of pipes Galvanized and stainless steel construction Supports tanks up to 9" in diameter and 2.5 gallon capacity...

read more

S10P4JP10221-02

Brand new in box Pentair 10GPM, 2 wire plus ground, 230V, 1HP, 60 Hz, single phase, 4" submersible pump composite ...

read more

S1229RS

The Microline S1229RS TFC 50 GPD RO Membrane that produces 50 gallons per day. Bran new, never opened....

read more

TFC-RS9-12

Top performing Rainsoft Ultrefiner compatible RO membrane, 12 gallons per day. To be used in system model # 9565, 9591, 9594, 9772, 13016, and 17375. We stock the highest quality of filter replacements on the market today. Ma...

read more

TFC-RS9-15

Rainsoft Reverse Osmosis Water Systems The RainSoft Ultrefiner Compatible TFC-RS9-15 RO Membrane is a 15 gallon per day...

read more

TFM-18

Desal 18 GPD TFM RO Membrane uses crossflow filtration to increase service life. As matter collects on the membrane, water from the feed solution sweeps it away and out its own tube. The cleansed permeate, or purified water, ...

read more