Description
Details
Defend your submersible pump and water system from the abrasive, damaging and costly effects of sand with a Lakos SUB-K Pump Protection Separator. Using controlled centrifugal action, troublesome sand is removed from the water before it enters the pump, reducing wear to impellers and other vital components.

Manufactured using state-of-the-art injection molding techniques and industrial strength composite materials, the SUB-K features no moving parts to wear out, no screens or filter elements to clean or replace and requires no routine maintenance. Trouble-free and effective, Lakos SUB-K Separators are easy to install into water wells as small as 6" I.D.
Features and Accessories
Product Features


Reduces sand abrasion wear to pump impellers and other components, EXTENDING the pump life 5 years or more.


Helps maintain optimum pump yield


Saves on pump energy costs with higher operating efficiency


Minimizes critical pump breakdowns


Improves flow past the pump motor, helping to cool the motor


Specifications:
Maximum Particle Size: 1/4 inch
Maximum Particle Concentration: 500 ppm
Minimum Depth of well Below Separator Setting: 20 feet
Minimum Submergence of Separator: 30 feet below pumping draw down water level
Where does the sand go?
According to a study conducted by Ohio University and under the direction of the National Water Well Association, purged sand from a pump protection separator creates the following conditions:



Purged sand begins to accumulate in the bottom of the well, blocking some of the casing perforations and changing the incoming flow characteristics.


Forced to take a less direct path into the well, the incoming flow velocity is reduced, making it less likely that the water will carry sand into the well


An "equilibrium" is achieved, keeping excessive sand from entering the well.


The natural movement of underground water just as easily moves some sand out of the well as it does into the well.


Additional Info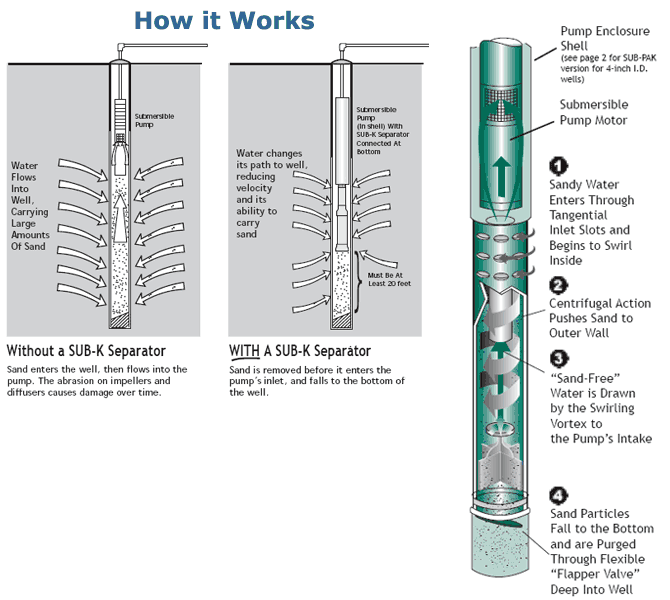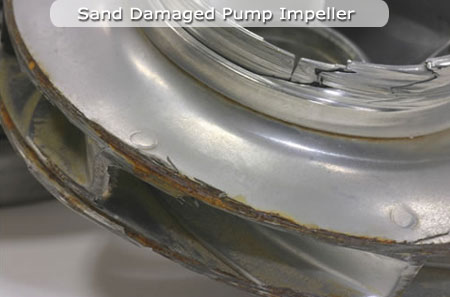 Specifications
Additional Info
| Specifications | |
| --- | --- |
| Manufacturer | Lakos |
| Model # | SUB-12-5-K |
| Shipping Weight | 14 |
| Warranty | 1 Year |
Product Literature