Description
Details
The CMBE Booster is designed for domestic and commercial water supply, pressure boosting, irrigation and dewatering applications.
The CMBE series is available in both 1x110-120V and 1x200-240V variants and uses energy efficient, permanent magnet motor technology, which provides unmatched reliability, quiet operation, and energy savings.
Thanks to the integrated speed controller, the CMBE keeps a constant pressure in the pipe system. A pressure sensor monitoring discharge pressure will signal to the speed controller to change the motor speed to adapt the performance to the new situation.

Features:
Constant pressure via integrated speed control
Compact design
Robust, stainless steel design
Easy installation
Low energy consumption
Dry-running protection
Noise level below 55 dBA and even lower at controlled speed
The CMBE Booster is a complete pump system preassembled with the following components:
CME pump with integrated frequency converter
5-way fitting with non-return valve
Diaphragm tank
Pressure gauge
Pressure sensor
Features and Accessories
Additional Info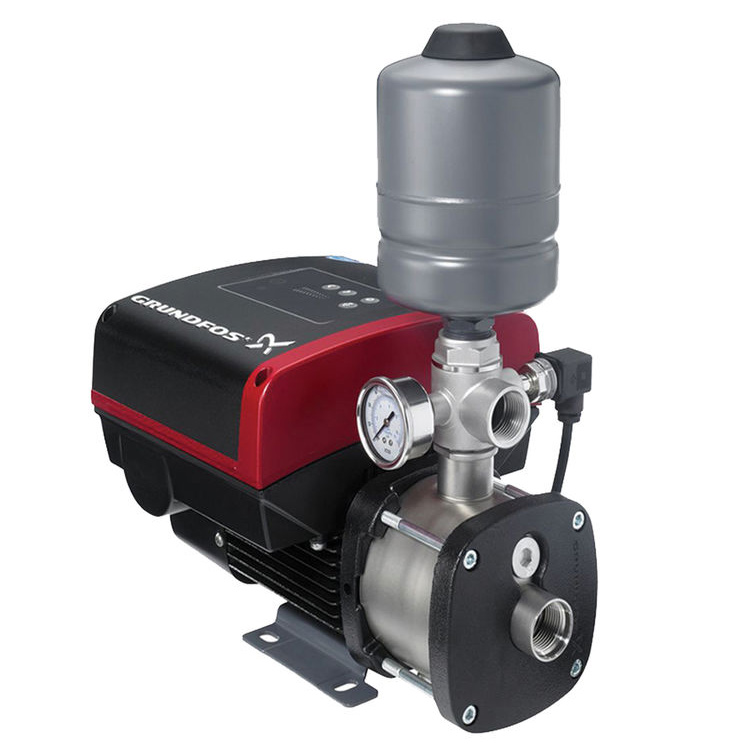 Specifications
Additional Info
| Specifications | |
| --- | --- |
| Manufacturer | Grundfos |
| Model # | CMBE 1-44-115v |
| Amps | 8 amps |
FAQs
Booster Pumps
When do I need a pressure reducing valve for my booster pump?
We recommend using a pressure reducing valve in most booster pump applications with incoming pressure to avoid over-pressurization of pipes and fixtures. Most home plumbing fixtures are rated for no more 85 PSI, and increasing the water pressure above this greatly increases the possibility of damage and leaks.
By using a pressure reducing valve, we regulate the amount of pressure going in to the pump so the pressure won't become too high in the event your public water pressure spikes upward.
PLEASE NOTE: This excludes the new Grundfos SCALA2 Variable Speed Pump.