Description
Details
Filter-Ag Plus is based on a rare natural mineral that is highly processed and refined, it's unique properties allow it to radically alter the performance and cost of media filtration. The hardness, stability and micro-porous character of Filter-Ag Plus makes it a perfect filtration media for virtually every application in the water treatment industry.
Features and Accessories
Product Features
Features High filtration performance-3-5 micron removal.
High capacity filtration throughout the entire nextsand bed depth provides more than twice the capacity of multimedia filtration.
High Service Flow– 3-4 times that of multimedia with superior filtration.
Long lasting media (>5 years) not consumed in the process.
Simple periodic backwash keeps the media clean and operating efficiently.
Applications
RO Pretreatment–superior SDI reduction
Cooling Towers–un-equaled Turbidity removal
Municipal Water Treatment, pressure and gravity filters–higher flow, lower pressure drop and superior filtration performance
Wastewater Polishing–exceptional TSS removal
Precipitated metals removal
Carwash reclaim and recycling
Irrigation
Additional Info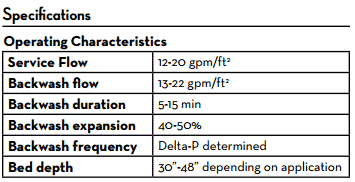 Specifications
Additional Info
| Specifications | |
| --- | --- |
| Model # | FILTERAGPLUS-1CF |
| Material | Zeolite/NextSand |
| Shipping Weight | 54 |
Product Literature