Description
Details
WHY CHOOSE THE Speedman Compact Water Pressure System?
The Speedman Compact variable speed drive controller matches the motor speed to the hydraulic demand which significantly reduces running cost and at the same time providing:
• Lower operating noise
• Smoother water flow from outlets
• Less pressure variation when other outlets are opened
• Under and overvoltage protection
• Loss of prime protection
• Auto-retry in the event of fault
• Motor overload protection

Horizontal multistage centrifugal pump with all hydraulic parts in stainless steel
• Corrosion & wear resistant
• Low noise output

Axial suction & vertical discharge
• Compact design
• Easy to install

Stainless steel impellers with high-efficiency impeller profile & thick self-centering impeller neck rings
• High efficiency
• Reduced power consumption
• Low noise output

Impellers mounted directly on extended motor shaft
• Maximized performance per stage
• High efficiency
• Long motor & pump life
• Increased wear resistance

Pump casing assembly attached to motor bracket at 8 points with o-ring seal
• Complete stainless casing
• Better sealing
• Longer service life

Davey built, totally enclosed fan cooled (TEFC) HM electric motor
• Fully sealed and lubricated bearings to reduce maintenance
• Oversized drive bearing
• Longer life
• Easy service
• Economical and quiet running


Features and Accessories
Performance Charts
Additional Info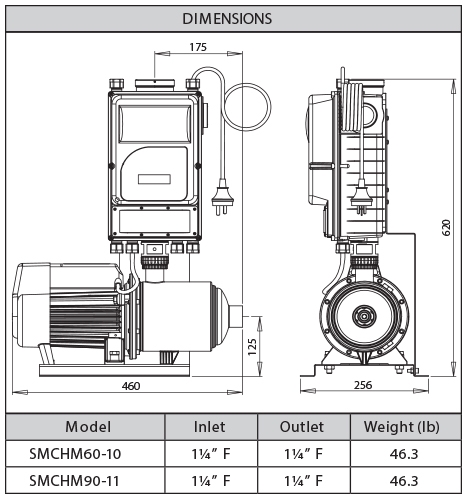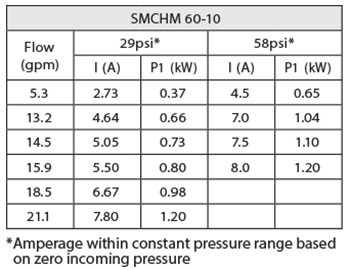 Specifications
Additional Info
| Specifications | |
| --- | --- |
| Manufacturer | Davey |
| Model # | SMCHM60-10 |
| Connector | 1 1/4" FPT inlet / oulet |
| Phase | 1 |
| Amps | 8.0 amps |
| Voltage | 230 v |
| Motor Horsepower | 1.6 hp |
| Warranty | 2 Years |
FAQs
Booster Pumps
When do I need a pressure reducing valve for my booster pump?
We recommend using a pressure reducing valve in most booster pump applications with incoming pressure to avoid over-pressurization of pipes and fixtures. Most home plumbing fixtures are rated for no more 85 PSI, and increasing the water pressure above this greatly increases the possibility of damage and leaks.
By using a pressure reducing valve, we regulate the amount of pressure going in to the pump so the pressure won't become too high in the event your public water pressure spikes upward.
PLEASE NOTE: This excludes the new Grundfos SCALA2 Variable Speed Pump.