Description
Details
Torrium® controlled pump for average to large homes with two stories or long runs of plumbing. Also good for whole house applications from a gravity feed tank. Not recommended for incoming pressure above 20-25 psi. A pressure reducing valve may be used before the pump to limit the pressure.
Benefits
Manufactured from highest quality corrosion resistant materials - meets ANSI/NSF61
Torrium offers even pressure without cycling
Adaptive cut-in pressure on Torrium allows for installation on higher static head installations
Cut-in Pressure - Adapts to 80% of last shut-off head pressure
Pump protected from damage caused by dry running
Low pressure loss through removable built-in check valve
Constructed from corrosion resistant materials
High quality, purpose designed electric motor
Motor and Pump designed for frequent starts
Low Maintenance
Discharge may be rotated through 360°, plus 12", high quality, 304 stainless steel braided discharge hose included - reduces noise transmission through household plumbing and makes plumbing easier
Features and Accessories
Performance Charts
Additional Info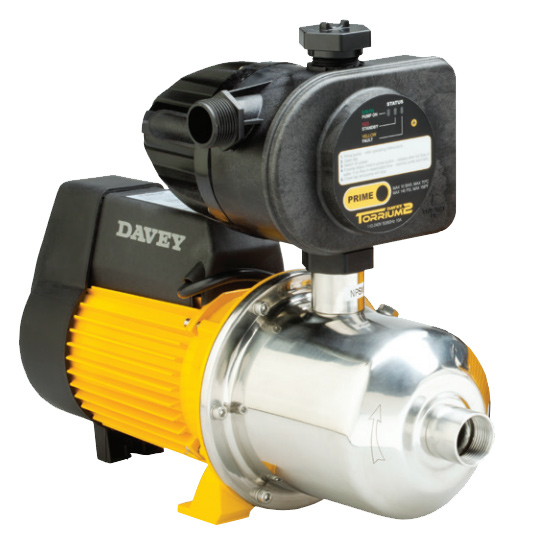 Specifications
Additional Info
| Specifications | |
| --- | --- |
| Manufacturer | Davey |
| Model # | BT20-40 |
| Connector | 1" FPT inlet / oulet |
| Phase | 1 |
| Amps | 4.7 amps |
| Voltage | 230 v |
| Motor Horsepower | 1.25 hp |
| Shipping Weight | 32 |
| Warranty | 3 Years |
FAQs
Booster Pumps
When do I need a pressure reducing valve for my booster pump?
We recommend using a pressure reducing valve in most booster pump applications with incoming pressure to avoid over-pressurization of pipes and fixtures. Most home plumbing fixtures are rated for no more 85 PSI, and increasing the water pressure above this greatly increases the possibility of damage and leaks.
By using a pressure reducing valve, we regulate the amount of pressure going in to the pump so the pressure won't become too high in the event your public water pressure spikes upward.
PLEASE NOTE: This excludes the new Grundfos SCALA2 Variable Speed Pump.
Product Literature