Description
Details
The Aqua Flo RO features quick-change cartridges, which can be customized for changing water conditions. These proprietary cartridges also simplify the regular replacement as required – typically on a semi annual basis. As always the new Aqua Flo RO will deliver bottle water quality without the hassle or cost.
Water conditions can vary even in the same community. The Aqua Flo High Performance Drinking Water System can be configured to meet your specific requirements. There are 10 interchangeable filters with a variety of treatment options that can be tailored to local water conditions, so your water is the best it can be.
The innovative Aqua Flo twist and lock design makes service simple. Twist off the old cartridge and twist on the new. No messy sump removal. Aqua Flo DWS makes drinking water better and life easier.



Features and Accessories
Product Features
High quality reverse osmosis membrane
Sediment pre-filtration
Pre & post carbon block filtration
Quick connect fittings
Color coded tubing for ease of installation
Chrome faucet
Storage tank
Additional Info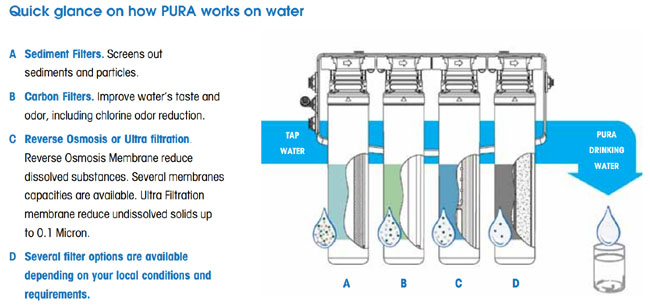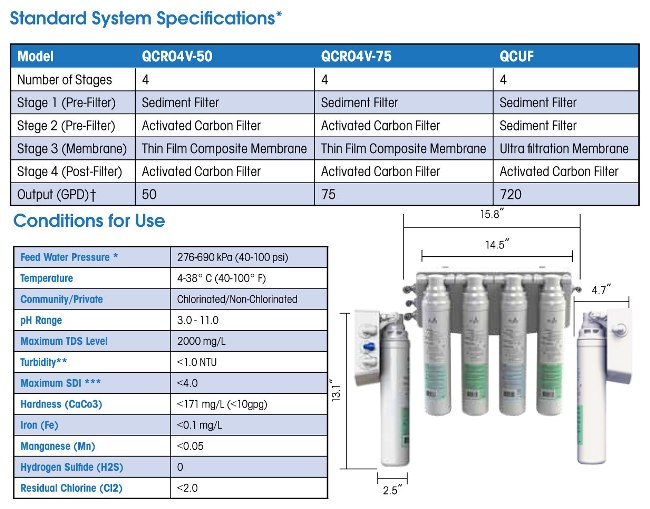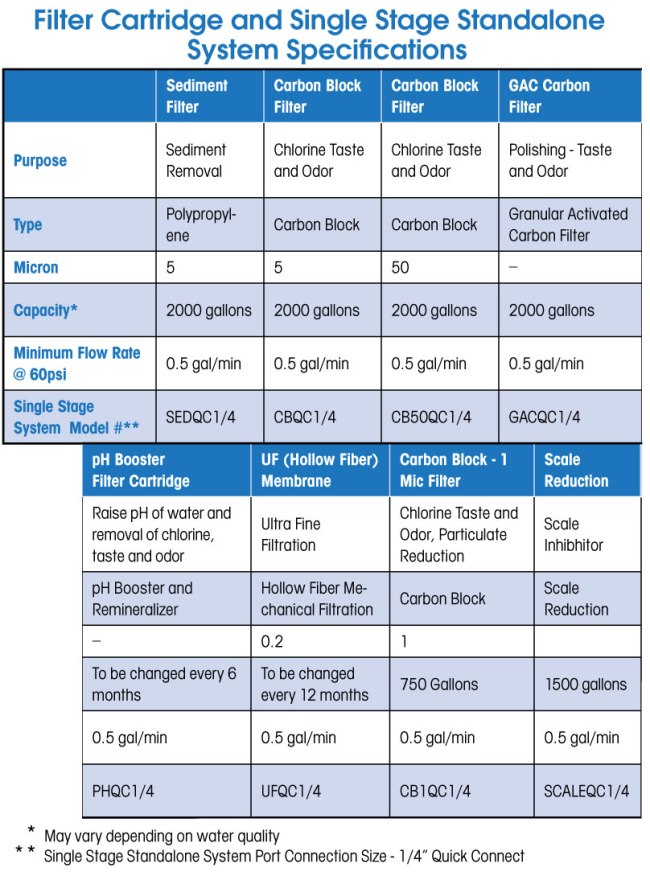 Specifications
Additional Info
| Specifications | |
| --- | --- |
| Manufacturer | Aqua Flo |
| Model # | QCRO4V-50 |
| Shipping Weight | 20 |
FAQs
Reverse Osmosis
Will a Reverse Osmosis system remove the salt from the softened water?
Yes most brands will remove 95%+ of the salt from the water. We recommend Hydrotech RO's they are outstanding units.
What is reverse osmosis?
Reverse osmosis (RO) is a common treatment technology that produces high quality water. The process works by forcing water under great pressure against a semipermeable membrane, where ion exclusion occurs. With ion exclusion, water molecules form a barrier that allows other water molecules to pass through while excluding most contaminants.
Typical contaminant rejection rates range from 85% to 99%, and a gallon of highly treated water can usually be produced from two to four gallons of raw water, depending on the initial quality of the water. Maintenance involves the replacement of the RO membrane cartridge every two or three years, and the carbon filter cartridges once or twice per year.
RO is effective for the reduction of a broad range of health and aesthetic contaminants, though it is typically not used for the reduction of biological pathogens. RO also incorporates an activated carbon filter, which can provide added treatment for the volatile organic compounds (VOCs) not treated by the membrane itself. It should be remembered that this brief description of water treatment technologies is only intended to provide an overview of how each technology can be applied to solve a water contamination problem.
Will an RO system produce 'pure' water"?
Many use the word "pure" and many books have been written on the subject. Purified water is a term that has little meaning unless additional specifications are supplied such as, salt free, bacteria free, etc. Distilled water is probably as close to "pure" as water can get. It is made by evaporation and removal of all solid particles plus dissolved material. Purified water by the reverse osmosis method probably means that the original water has reduced mineral content. Purified water by ultraviolet light probably means that the water source was passed through an ultraviolet system in hopes of disinfecting the water. It is generally recognized that no single water treatment method is a catchall for all possible contaminants. Each water treatment method has its strengths and weaknesses and all are dependent on the condition of the water source.
I've heard that I shouldn't use copper pipes with RO systems?
Piping after an RO unit should always be nonmetallic. RO units will pass all the CO2 that is in the feedwater. This means the water will be more corrosive.
I have hazardous water. Will an R.O. give me "pure" water?
R.O.'s (no matter what brand) do not produce sterile water. Some microbial growth is common after an r.o. system. If your feed water has microbiological water problems possibly an Ultra Violet water filtration system might be needed.
My R.O. is almost new and is rated to produce 24 gallons per day but it only produces about 6 gallons per day if I'm lucky?
Ratings provided by (honest) manufacturers are based on "ideal" situations. Please note, for example, both the pressure inlet and the temperature of the source water affect the production a lot (as well as the quality of the source water as well as the back pressure from the r.o. bladder tank, etc.). The lower the pressure inlet, and/or the lower the inlet temperature, and/or the worse the quality of the source water = the less the amount of water that is produced by your r.o. system. A "typical" 24 gallon per day rated r.o. could take over 12 hours to fill the 2 gallon storage bladder tank.
Is this crazy or what? It just doesn't seem right that with a 24 gpd rated r.o. (just an example, it could be a 30 gpd r.o.) that it takes as much as 12-16 hours to fill a two gallon bladder tank. Yes, we agree and that is why we are alerting you. It is extremely rare that any brand of r.o. will deliver near its rated gallonage. If your family needs more than 5 gpd and only has an 45 psi inlet you might consider buying a larger than 30 gpd rated r.o.. If you only have 40 psi we strongly recommend purchasing your r.o. with a booster pump. This statement applies not only to the r.o.'s that we sell but to the design of all brands of residential r.o.'s. MOST families don't use over 2-5 gallons of r.o. drinking water and, most families are perfectly happy with a 30 gpd r.o. system. If your family and/or your water source isn't "typical" then we suggest getting a bigger than 15-30 gpd rated system. Realize that if you have at least 50 psi inlet, fairly clear, 77°F and have the produced water dribbling into a container then the system will probably deliver slightly more than the ratings. Since this is probably not the case, we want to let you know this before you buy an r.o. system. Inlet water is "squeezed" through the r.o. membrane. That is how the principle of any brand r.o. works.
While I am buying an r.o. system from you should I order an extra membrane and carbon filters?
Most people will not mention this (or do not know) but r.o. membranes and carbon filters have a shelf life. We highly recommend that you buy your carbon filters and r.o. membranes right before installing them and not to purchase extras until you need them.