Description
Details
A.Y. McDonald's E-Series DuraMAC™ Water Pressure Booster System is ideal for residential, irrigation, or light commercial applications. This pump comes complete with easy set-up instructions, all metal connections, a half-gallon pressure tank, and the inclusion of a check valve. In addition, experience a quiet operation due to the TEFC single phase motor, along with extra security because the electronics are separated and sealed from the waterway. Designed to shut off when no flow is detected, the E-Series DuraMAC™ Water Pressure Booster System gives that extra boost that you (and your water pressure) have been waiting for!

E-Series Features:
- Water pressure boosting system for residential, irrigation, or
light commercial use
- Easy set-up installation
- All metal connections - no plastic threads
- Half-gallon pressure tank included
- TEFC single phase motor for quiet operation
- Electronics separated and sealed from waterway
- Check valve included
- Dry-run protection
- 1 year warranty
*The DuraMAC is the quietest booster pump we carry!*
Features and Accessories
Performance Charts
Additional Info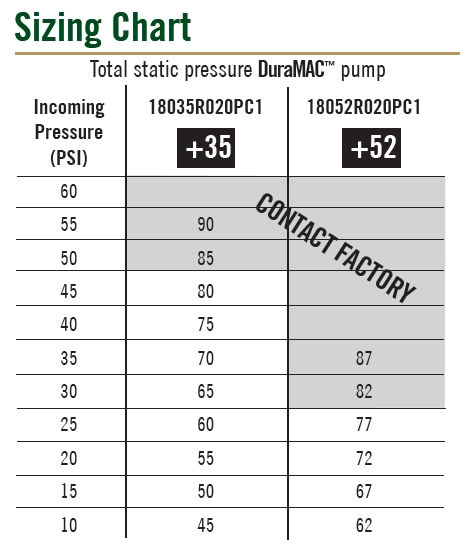 Specifications
Additional Info
| Specifications | |
| --- | --- |
| Manufacturer | A.Y. McDonald |
| Model # | 18052R020PC1 |
| Connector | 1" |
| Amps | 7.0 amps |
| Voltage | 115 v |
| Motor Horsepower | .75 hp |
| Shipping Weight | 27.7 |
| Warranty | 1 Year |
FAQs
Booster Pumps
When do I need a pressure reducing valve for my booster pump?
We recommend using a pressure reducing valve in most booster pump applications with incoming pressure to avoid over-pressurization of pipes and fixtures. Most home plumbing fixtures are rated for no more 85 PSI, and increasing the water pressure above this greatly increases the possibility of damage and leaks.
By using a pressure reducing valve, we regulate the amount of pressure going in to the pump so the pressure won't become too high in the event your public water pressure spikes upward.
PLEASE NOTE: This excludes the new Grundfos SCALA2 Variable Speed Pump.